A Few of the Rare Collectable Automotive Books for Sale at Ethyl's Garage Automotive Bookstore

We've been unpacking more special automotive books. Here's a sample.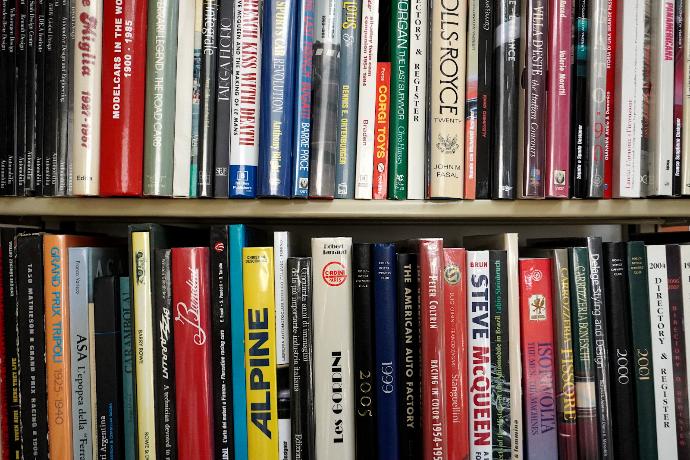 Alex and Melinda have been unpacking more books. Here are a few of the special rare, collectible, and out-of-print books we're adding to our inventory. Highlights of this collection include:
Book of the Mexican Road Race,

by Floyd Clymer, Clymer Publishing, 1950;

Bugatti Argentina,

Cristian Bertschi & Estanislao Iacona (Portuguese & English text), Whitefly Press, 2007, ISBN 978-987-23378-0-3


Bugatti—Thoroughbreds From Molsheim,

by Pierre Dumont (English translation by Patrick E. Grace), E.P.A. & Motorbooks International, 1975, ISBN 2-85-120-043-7 [plus more Bugatti books];

Automobili Fiat Volumes 1 & 2,

by Angelo Tito Anselmi (Italian text), Libreria dell'Automobile, 1986, ISBN 88-7672-025-1[and lots more Fiat books];
Alpine Label Bleu Series et Competition,

by

Christian Descombes (French text), Editions Presse Audiovisual (E.P.A.), 1995, ISBN 2-85120-395-9;

Automobile Club di Milano—Novant'anni con la Città' 1903–1993,

Paolo Montagna (Italian text), Edizioni Acinnova Srl (printed by the city of Milan), 1993

Bandini,

Franco Fabbri & Cesare Sangiorgi (Italian & English text), Aquacalda Editore (published by the family), 2002

Carambola! (Nessun danno alle persone),

Luigi Orsini (Italian & English text), Le Edizioni dell'opificio (limited edition published by Orsini), 1996

Plus hundreds more hard-to-find automotive books.
See something you like? Or looking for a special automotive book for your collection? Just ask us. If we don't have it in stock, we can probably find it for you.